Lire l'article dans le journal : http://www.thetribune.com
Tir réussi du missile balistique Agni-III
New Delhi, April 12, 2007 :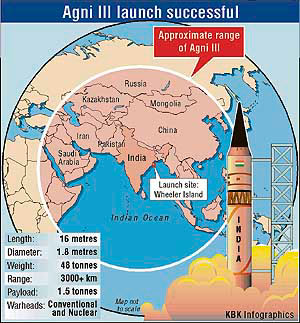 After initial hiccups and a failed launch in July last year, the country's defence scientists made significant headway in successfully test firing the intermediate range ballistic missile Agni-III from the test range off the Orissa coast in the Bay of Bengal in the forenoon today.
The entire flight path of 15 minutes duration validated all mission objectives, observed a spokesperson for the defence ministry.
The indigenously developed all solid fuel missile weighing 48 tonnes blasted off at 10.52 am from a fixed platform from the interim test range located about 70 km from Balasore. Having a strike range of more than 3,500 km with a capacity of carrying a payload of 1.5 tonnes, the missile has the capability of reaching far beyond South Asia.
Strategic experts said while Agni III could provide the country a major deterrent, it would be too early to say with any certainty that it would be able to carry the nuclear payload the entire distance and more.
With technology being developed indigenously unlike Pakistan, glitches could not be ruled out, which have to be rectified before one could be 100 per cent sure. At the same time the successful test of Agni III after major setbacks and postponements was indeed an achievement.
Sources in the defence ministry said the scientists had also validated the latest technology encompassing the control system for rocket guidance, composite propellants and guidance and control with the aid of fault tolerant avionics. The DRDO used a new critical motor case hardware made of special steel for the test. The new device would increase the range of the missile by 15-30 per cent. Fitted with an on board computer, the missile zoomed into the sky up to a distance of 90 km. It crossed the atmosphere and re-entered zooming in at the pre-determined impact point near the Car Nicobar island.
The flight was tracked from ground stations at Dhamra, intermediate test range near Balasore, Port Blair and Navy ships in the Indian Ocean.
Agni III is the country's first solid fuel missile, which can be deployed on a variety of surface and sub-surface platforms. The missile can have a wide range of warhead configuration.
Union defence minister A.K. Antony congratulated the defence scientists for achieving "another important milestone in self reliance in this critical strategic system".
The successful launch showed that India had matured in the missile technology area and was definitely on a par with many other developed countries. "Agni III was confirmed as India's strategic capability for minimum credible deterrence..."
While commending the defence scientists, scientific adviser to the defence minister M. Natarajan drew pointed attention to the high degree of self reliance in Agni III as most of the sub-systems had been developed within the country because of the synergy between the Defence Research and Development Organisation (DRDO), industry both public and private and the academia.