Lire l'article dans le journal : http://www.thetribune.com
New Delhi hosts world's biggest aircraft
New Delhi, May 6, 2007 :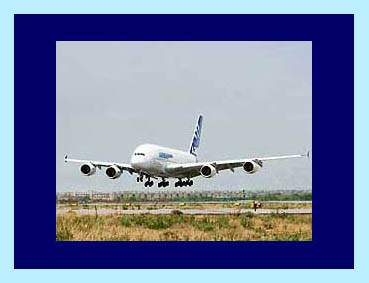 The world's biggest passenger aircraft — Airbus A380 — that can seat up to 850 passengers today cruised through Indian skies and landed in the Capital for the first time.

The A380, the world's first double-deck passenger aircraft, landed at 10.30 am at the Indira Gandhi International Airport at Runway 10. The aircraft, in Delhi as the part of world tour, was parked at the terminal near the Air Traffic Control (ATC) building. The four engined airliner has been manufactured by European Aeronautic Defence & Space Co.

For onlookers, who gathered in large numbers on roads leading to the airport, the massive jet appeared to be hanging in the air. That is because even though it was moving at a high speed, because of its sheer size it seemed to be moving slowly to the naked eye as compared to smaller aircrafts.

The plane, having a wingspan of 261.8 feet (79.8 m), a length of 239.5 feet (73 m) and a maximum take-off weight of more than 5,40,000 kg (1.2 million pounds), is almost as big as a football field.

It is expected to enter commercial service with Singapore Airlines later this year. In India, private airline Kingfisher is the only carrier that has a firm order for five A380 aircrafts. Kingfisher is due to take delivery of the aircraft in 2011-12.

A380 can land and take off on any runway that can accommodate a Boeing 747, but airports will have to do some modifications for its weight and wingspan. Incidentally, only three airports in India-Delhi, Mumbai and Kochi-can accommodate to the aircraft.

The A380, created by a consortium of aerospace companies, is being seen as future of aviation, responding to airline calls for a bigger plane to meet increasing passenger numbers flying between major hubs.

Manufacturer Airbus says that since the plane can carry more passengers over longer distances, it can ease congestion, both in the air and on the ground. And for airports, concerned about congestion in the air as well as airports, anything that increases the number of passengers without increasing the number of flights should be welcome. As per the manufacturer, it has firm orders and commitments for 166 aircraft from 15 customers.

The aircraft has a maximum range of 15,000 km, sufficient to fly from Chicago to Sydney nonstop and a cruising speed of 900 km per hour. It first flew on April 27, 2005 from Toulouse, France, and is set to challenge the Boeing 747's long dominance of the jumbo jet market. The manufacturer is selling it in two models-the A380-800- that can carry 555 to 853 passengers. The second model, the A380-800F, is the world's largest freight aircraft and can carry 150 tonnes of cargo.

Due to long delays in production of the A380, two A380-800 freighter customers cancelled their orders and several launch customers deferred delivery or considered switching their order to the competing Boeing at significant cost to Airbus. Reportedly, the manufacturer suffered a loss of $1.01 billion in October-December as the aircraft saw delays in production.

The A380 touch down for the first time in India is to mark the second anniversary celebrations of Kingfisher airlines. During its India visit, it will take some VIPs on a flight over Delhi and on Tuesday it will take off for Mumbai. The 80-feet-tall giant aircraft will be fly flying off from Mumbai on May 9.