Lire l'article dans le journal : http://www.thetribune.com
La mousson frappe Calcutta
Kolkata, June 13, 2007 :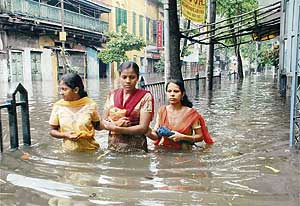 On the first day of the monsoon, accompanied by heavy showers, cyclone and thunderstorm, lashed the city today along with the other south Bengal districts during which at least 15 persons, including children, were killed.

While six persons were killed due to thunderstorm, the remaining were buried following the house collapse.

A ferry boat, carrying several passengers was drown in the Hooghly river. Though most of the passengers were rescued, five occupants were still reported missing.

Two persons were also electrocuted during the rain. A passer-by, who was hurt by the falling of a tree in the maindain area, later succumbed to the injuries in the hospital.

After a long spell of the continuous hit and humid weather, the day broke today with the sound of fury cyclone and thunderstorm and within an hour's time, the entire city went under water. In some places ankle-dip and elsewhere waist-dip, following the huge accumulation of the rain water.

Due to the city's poor drainage and sewerage system, Job's Charnock's Calcutta today remained water-logged for several hours, which paralysed the city's traffic and transport system. Army boats were pressed into service for ferrying the people in many areas flooded with rain water.

The train and air services were badly hit during the rain and thunderstorm. Many local trains were cancelled. The mails and long-distance train services were also hit.

Most of the schools, colleges and other educational institutions were closed. Shops and markets in many areas were closed. The attendance in the offices and other places was thin.

No works could be done at the Calcutta high court and other magistrate courts in the districts since most of the court rooms remained water-logged due to the rains.

The Nandigram case which was to be raised and heard at the chief justice's court in the high court had been deferred.

During the downpour, many houses, particularly, in the north 24-parganas and south 24-parganas, had been collapsed, the trees uprooted and roof sheets washed away due to the cyclonic storm.